New Product Launch... RIB SEAL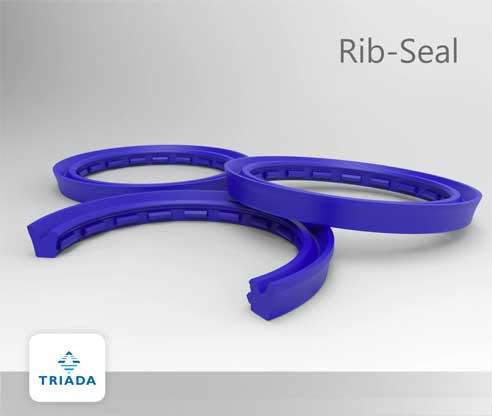 A Rod seal with a unique innovative design, which reduces the operating temperature at the sealing lip, thereby providing an efficient sealing system coupled with a longer life. The rib like profile on the secondary lip, reduces the contact area on the Rod surface and thus the reduction in temperature at the sealing lip. The position of the ribbed secondary lip and the generous radius provided at the heel of the seal avoids the threat of extrusion and thereby eliminating the need of anti-extrusion rings.
Also to be noted is the lubrication channel provided right behind the sealing lip, which improves the lubrication at the lips and ensures a smooth movement of the Rod. All these design features reduces the seal friction by around 50% compared to that of a standard double lip U-Cup seal, verified through tests. The design of the seal helps to increase the extrusion gaps, which minimizes or virtually avoid the buildup of drag pressure. These seals are well suited where the piston rods are expected or likely to sway sideways.  Seals are designed to withstand an operating pressure of 400 bars, with spikes upto  500bars.